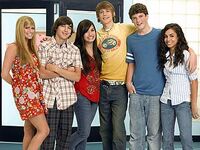 As the Bell Rings (a play on the soap opera As the World Turns) was a Disney Channel short show based on the Disney Channel Italy series "Quelli dell'intervallo".
The format is a selection of short live-action comedy sequences. The American version of As the Bell Rings also airs on the Dutch Disney Channel. The show was ended after the second season.
Demi Lovato appeared in the first season of the American version where she portrayed Charlotte Adams, one of the main characters.
Ad blocker interference detected!
Wikia is a free-to-use site that makes money from advertising. We have a modified experience for viewers using ad blockers

Wikia is not accessible if you've made further modifications. Remove the custom ad blocker rule(s) and the page will load as expected.