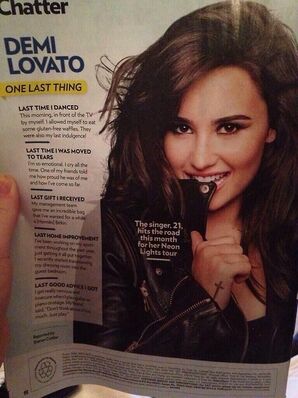 Demi was interviewed by People Magazine with five questions.
Interview
Last Time I Danced
This morning, in front of the TV by myself. I allowed myself to eat some gluten-free waffles. They were also my last indulgence! 
Last Time I Was Moved To Tears
I'm so emotional. I cry all the time. One of my friends told me how proud he was of me and how I've come so far. 
Last Gift I Recieved
My management team gave me an incredible bag that I've wanted for a while: a [Hermés] Birkin. 
Last Home Improvement
I've been working on my apartment throughout the past year, just getting it all put together. I recently started transitioning my dressing room into the guest bedroom. 
Last Good Advice I Got
I get really nervous and insecure when I play guitar or piano onstage. My friend said, "Don't think about it too much. Just play." 
Trivia
Demi hits the road for her Neon Lights Tour.
Ad blocker interference detected!
Wikia is a free-to-use site that makes money from advertising. We have a modified experience for viewers using ad blockers

Wikia is not accessible if you've made further modifications. Remove the custom ad blocker rule(s) and the page will load as expected.