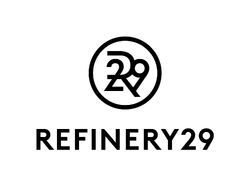 Refinery29
is an independent fashion and style website in the United States, is a lifestyle platform that delivers nonstop inspiration to help women live a more stylish and creative life. It connects over 25 million monthly visitors and over 175 million users across all platforms with 24/7 programming covering everything from shopping and beauty to wellness and celebrities, giving readers all the tips, tricks, and tools they need to live a more beautiful life — and share it with the world.
Demi Lovato gave an interview for the website during May 2016 as well as taking part in a photoshoot.
2016
Description
"At an unpretentious nail salon in a strip mall in the Valley, Demi Lovato lounges deep into her chair, apologizing to the manicurist for her persistent cough. She is surrounded by a collection of waters and green teas, salves for the bronchitis that's been plaguing her for weeks. Later this afternoon, a doctor will be dropping by the house Lovato shares with her longtime boyfriend, Wilmer Valderrama, to administer an IV drip to bolster her system for a big weekend of performances. It's a cliché to bring up a celebrity's makeup-free face, but Lovato's bare skin and bedhead are a reminder of just how young this woman is — a woman with a loving reminder to "Stay Strong" tattooed on the undersides of the wrists she once sliced into. Just 23 years old, and so many lifetimes already lived." (Read the full interview here)
Gallery
Videos
Ad blocker interference detected!
Wikia is a free-to-use site that makes money from advertising. We have a modified experience for viewers using ad blockers

Wikia is not accessible if you've made further modifications. Remove the custom ad blocker rule(s) and the page will load as expected.