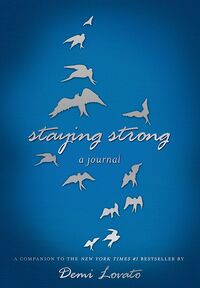 Staying Strong: A Journal
is a book written by
Demi Lovato
which follows after her first book
Staying Strong: 365 Days a Year
.
Description
Going hand-in-hand with Demi Lovato's #1 New York Times-bestselling book of affirmations, Staying Strong: 365 Days a Year, comes a companion journal. In a beautifully designed and free-flowing paperback format of lined pages and blank pages, this journal has everything for readers and writers to capture and reflect on what they feel at any given moment. [1]
Gallery
References
Ad blocker interference detected!
Wikia is a free-to-use site that makes money from advertising. We have a modified experience for viewers using ad blockers

Wikia is not accessible if you've made further modifications. Remove the custom ad blocker rule(s) and the page will load as expected.