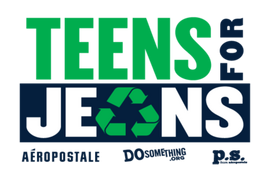 Teens for Jeans
is a campaign that is part of
Do Something
.
Demi Lovato
is a part of this campaign. It is all about collecting jeans for homeless teens.
Demi stated: "Taking part in a campaign like Teens for Jeans reminds me to not dwell constantly on my own issues and selfishness and refocus that energy on people in need. It also really puts things in perspective when you realize how many kids out there are homeless, unhappy and hurting. Helping those in need makes me so much happier and healthier and I encourage all my fans to be of service!"
Ad blocker interference detected!
Wikia is a free-to-use site that makes money from advertising. We have a modified experience for viewers using ad blockers

Wikia is not accessible if you've made further modifications. Remove the custom ad blocker rule(s) and the page will load as expected.