The Early Show

Television Show
Presented by:
Erica Hill
Country of origin:
United States
Production
Running time:
120 minutes (two hours)
Location(s):
General Motors Building, New York City
Production company(s):
CBS News Productions
Broadcast
Original channel:
CBS
Original run:
November 1, 1999 – January 7, 2012
Relevant Pages

GALLERY
The Early Show is an American morning television program that aired on CBS from November 1, 1999 to January 7, 2012, and the ninth attempt at a morning news-talk program by the network since 1954. The program aired Monday through Friday from 7:00 to 9:00 a.m. (live in the Eastern Time Zone, and on tape delay in all other time zones), although a number of affiliates either pre-empted or tape-delayed the Saturday edition. The program originally broadcast from the General Motors Building in New York City.
2009
Demi Lovato appeared on the show and gave an interview on January 20, 2009.
Videos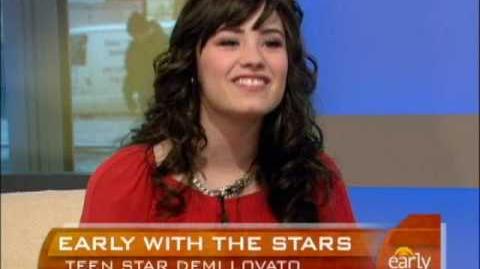 Ad blocker interference detected!
Wikia is a free-to-use site that makes money from advertising. We have a modified experience for viewers using ad blockers

Wikia is not accessible if you've made further modifications. Remove the custom ad blocker rule(s) and the page will load as expected.