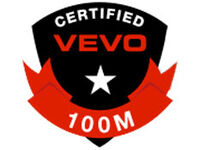 VEVO Certified Awards
is a special award received from VEVO, which honors artists with at least 100 million views on Vevo and its partners (including YouTube) through special features on the Vevo website.
Demi Lovato
has a total of nine videos certified.
List Videos Certified
Ad blocker interference detected!
Wikia is a free-to-use site that makes money from advertising. We have a modified experience for viewers using ad blockers

Wikia is not accessible if you've made further modifications. Remove the custom ad blocker rule(s) and the page will load as expected.